Stair Dismount, also known as Porrasturvat, was one of the first ragdoll games to see massive viral propagation. It was just one of those games that you had to paste to your friends. The premise is simple: a ragdoll man is standing unaware at the top of some stairs. As the player you select which limb to hit, the angle, and time the "dismount" to coincide with a fluctuating power meter. As the ragdoll tumbles down the stairs the damage to each limb is tallied. Local and online high score lists show how you stack up against your best records and other players.
There is an addictive element to Stair Dismount's simplicity. It's hard to resist the temptation to fiddle with the angles and power for subsequent attempts. Could you deal more damage with a weaker hit and thus a longer fall? Is it better to slide down the stairs or get the ragdoll tumbling head over heels? I'd be surprised if anyone could play the game just once without playing a second time to see if they could improve their score.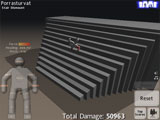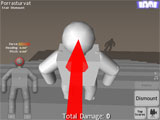 (Stair Dismount Game Screenshots)
Stair Dismount was developed by Jetro Lauha for the game development competition at Assembly in 2002 (it took first prize). Stair Dismount was developed in a little over a week and a half by relying heavily on pre-existing libraries: SDL, ODE, FMOD, and Juice for physics modeling. It's an impressive outcome for such a short development timeframe and certainly one of the classic physics games.
Download Stair Dismount game (2.20 MB) for Windows PC or head on over to the official website for Linux and Mac OS versions.
Related Posts:
7 Responses to 'Classic Physics Game: Stair Dismount'



The sounds made me always lough so much !!! :D :D




keep up the good work!




Interview with Jetro:




Dude this game is off the hook it is so much fun to see his head go between his legs.




LOL, great time with this, its so damn fun.




OMFG my new fav game




Great game
Leave a Reply