Truck Dismount by Jetro is the sequel to his runaway paste-around, Stair Dismount. The core concept remains the same: Mangle the ragdoll. This time, though, the poor guy is on and around a moving truck instead of a static set of stairs.
Optimizing Sliders
The gameplay hook is the same as Stair Dismount. You as the player configure the playfield: how fast the truck moves, where the ragdoll starts, windshield on or off, the location of the speed bumps, and so. After you press "go", you simply sit back and watch.
Experimentation is key. Is it better to put the ragdoll man on top of the car so he flies off? Or inside, to begin with, and hope he falls out if the truck tips over? Does a slower-moving truck mean a longer time to deal damage?
Extrapolation of the Genre
Truck Dismount is fun, for a bit, but it suits players who prefer to optimize a single set of variables. Even with the inherent replay value of physics games, I get bored easily. Personally, I would love to see the hurt-the-ragdoll concept extended far past a simple scenario. Imagine a street intersection with a bunch of ragdolls: You choose when the grandma ragdoll starts to cross the street, when two cars depart, and where the paperboy ragdoll goes on his bike. I could play with that for the better part of an hour. The possibility space of a set of stairs or a truck, a wall, and two speed bumps is really quite limited by comparison.
Pick up the Pace
My other gripe with the Dismount games is their pacing. Now, granted, this is obviously a design decision, and there is a certain mesmerizing allure to the lack of interactivity in the current games. Personally, I would love to see more action and faster motion. Fire a ragdoll out of a cannon, or strap one to a stunt-jumping motorbike, or something. Toss some explosions in there. The dynamism of a physics engine isn't being exploited to its fullest with damped, lethargic motion.
Content?
Finally, the single scenario provided in Truck Dismount wears out pretty quickly. If you've spent an hour fiddling with the game once, you really don't have much a reason to come back to it ever again. It would be great to see more scenarios in future games [editor's note: there's actually a level editor in the up-and-coming Dismount Levels game].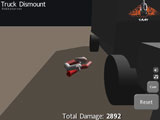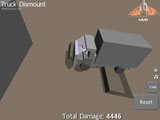 (Truck Dismount Game Screenshots)
It's Free, It's Fun!
Still, Truck Dismount is a great extension of the original Dismount concept. I think at some point in their childhood everyone smashed up an action figure or doll. Truck Dismount lets you tap into that adolescent urge again and again. Best of all, nobody actually gets hurt (unless you play enough to get wrist pains, of course, in which case you should really look into getting a pair of Softflex gloves).
Download Truck Dismount game here (2.0 MB), or head on over to Jetro's Dismount page for the other titles.
Related Posts:
15 Responses to 'The Prequel to Hobo Dismount: Truck Dismount'



Wasn't this reviewed already a couple of weeks ago?

I played this for awhile — it's fun for an hour or two. The Stair Dismount is a LOT more fun.




Stair Dismount was previously reviewed (but not TD). Truck Dismount isn't that different, really, but I wanted to cover it for the sake of completeness.




Truck Dismount is as well as Star Dismount excellent proof of physics in gameplay and they are quite enjoying and kills an hour now and then if one wants to. Really good games!

Btw – I would also like to say that this blog is one of the best I'm following at the moment. Keep up the good work ;)

/Pelle, Sweden




"Personally, I would love to see the hurt-the-ragdoll concept extended far past a simple scenario."

Well, perhaps this could be of interest?
——————————
Press Release
——————————
CRUSTY DEMONS

Giving the extreme sports genre a swift kick in the ass ¡K

BASINGSTOKE, England (April 11th 2006) – KOCH Media get down and dirty this summer with the release of CRUSTY DEMONS. Co-Published by DEEP SILVER and RED MILE ENTERTAINMENT, Crusty Demons offers players extreme freestyle moto-x stunt action on Sony PlayStation 2. Created by renowned UK development team CLIMAX, players can expect a highly enjoyable game with attitude.

CRUSTY DEMONS puts the extreme into "extreme sports." Fusing violent extreme sports gameplay with freeform tricking and stunt action, Crusty Demons provides a heady mix of high-octane mayhem and bone-breaking crashes. Paying homage to the crazy exploits of the internationally famous "Crusty Demons of Dirt" moto-x stunt team, the game recreates the over-the-top destruction of the Crusty Demons; encouraging the player to engineer spectacular crashes and inflict massive injuries on their in-game rider – all in the name of entertainment!

The Crusty Demons are a gang of bikers who tour the world performing outrageous bike stunts and participating in all manner of crazy skits with motorized vehicles. In a pact with the Devil, they are offered immortality – the ability to crash time and time again, yet still live to walk away – at the cost of signing over their souls. Only by winning the "damnation game" and entertaining Lucifer do they have a chance to win back their souls…

– FEATURES –

Featuring the world famous… Crusty Demons!!

Ride with the Crusty Demons of Dirt, world famous extreme riding stunt team. Fully licensed game featuring Seth Enslow, Jeremy "Twitch" Stenberg, Ronnie Faisst, Kenny "The Cowboy" Bartram, Dan Pastor
Tons of Stunt Moves!

Tons of tricks- Unlock over 100 cool trick moves to put together killer stunt combos

Don't Fail, Bail!

Score points by bailing and crashing your rider and get bonuses for breaking bones and smashing stuff in the game world. Pull off comedic poses and stunt moves during bails. Full rag-doll simulation on riders and in-game pedestrians during crashes and collisions delivering bloody, realistic crashes that are always unique.

DYI Stunt Crashes!

Replay your crashes with full control of camera and playback speed for DIY Crusty movie moments.
Mayhem on 2, 3 and 4 Wheels!

Ditch your dirt bike or street bike and drive 10 crazy vehicles including ice cream truck, lawn mower, ATV and mini bikes. There are over 30 varieties of vehicles to choose from.
Sandbox Gameplay!

16 levels of gameplay in single player mode and 6 multiplayer levels.

Sandbox missions give players the freedom to play them in any order.

4 game modes – Story, Freeride, Devil Rush, and Multiplayer – deliver a deep gameplay experience.

7 international locations to trash – Texas, Arizona, New York, Cancun, Amsterdam, Rio and Tokyo




I was specifically thinking about these two quotes:

"encouraging the player to engineer spectacular crashes and inflict massive injuries on their in-game rider"

"Score points by bailing and crashing your rider and get bonuses for breaking bones and smashing stuff in the game world. Pull off comedic poses and stunt moves during bails. Full rag-doll simulation on riders and in-game pedestrians during crashes and collisions delivering bloody, realistic crashes that are always unique."

(just so people don't think I'm advertising the game here – I just saw the press release and thought it was a neat coincidence)




Crusty Demons sounds neat. Driving games like Flat Out have taken to using ragdolls to some degree–there are minigames where you have to eject the ragdoll out of your car for height or distance, etc. It seems like Crusty Demons takes the concept to the logical extreme.

Pelle: I'm glad you're enjoying the site!




I reckon Truck dismount is my favourite of the two. I'm not sure why, but it probably has something to do with the crushing. Eh-heheh.

The Dismount Levels demo is really quite hard to control. More often than not, i'll be falling off the sides of the level.




Stair Dismount was one of my favorite games you posted here, and while Truck dismount is fun, the positions are very unequal, and the game is not as fun as Stair Dismount.

Although it's fun when the truck lands on the person.

CRUNCH!




i enjoyed both stair dismount and truck dismount although they get repetetive over a period of about 10 minutes. I totally agree that the ragdoll engine isnt being use to its full potential and think that someone should make a game like you said involving lots of scenarios how many cars, ragdolls, speed of cars/ragdolls etc.
If a game like this becomes available via this website i will surely download it
so get cracking!




I tinkered alot with it, being pretty easily amused :).

Here's a fun one:
position 1; no windscreen
center position for rider
ramps on, both centered on truck path.
one ramp at each (distance) extreme
full tilt-boogie (full speed) on truck.

This combo will throw his sh*t up and over the wall.
Bonus points fr anyone who can land him _on_ the wal ;)




For an interview with Jetro:




if you like this then tey endophin (www.naturalmotion.com) its only a lerning editon but you can make them do anything…. ride a motorbike, design a character or prop and then make them jump off cliffs lol




I got him on the wall! Exact same as Swamp Harm but instead:

position 1; no windshield
center position for rider
ramps on, both centered on truck path.
one ramp at each ce. ( close and far from truck)
about 70% speed
speed must be EXACT or will not work but play around, its right about that.

P.S. are those bonus points reddemable at wal-mart?




Actually, this is quite a decent game. I and a group of other 16/17-year-old students have been playing this probably for a total of about 3 hours (maybe more) over the past week, and the degree of control is perfect for this sort of game. (Also the ability to save replays is spot on – there are a couple of brilliant ones we have saved)
We all seem to agree that the only bit that "Stair Dismount" has in preference to "truck dismount" is the screams.




I got him over the wall before. Don't ask how I did it, I'm not sure myslef >_>
Leave a Reply