While I will usually focus on smaller independent productions, there are certainly some fully-funded retail productions that deserve mention. The Trackmania series of games definitely stands out from your typical racing game. Driving games are inherently physics-games. They obviously mimic a very physical activity. Some racing titles focus on perfect simulation, others mix in idealized controls (FlatOut comes to mind), and still others do away with realism altogether (why haven't they made a new Carmaggedon game?).
Trackmania Nations stands somewhere between idealized and absurd. It's almost best to think of the game as a platform game, but instead of Mario you have a speedy little car. The courses range from the expected, very typical race tracks to outright insane loops, half-pipes, and boost-powered jumps. This Flash 8 video shows off one of the advanced courses:
Best of all, Trackmania Nations is free. It's a downloadable release specifically created for the Electronic Sports World Cup. Players will be able to train for finals to be held in Paris this summer. Apparently there's $400,000 up for grabs. Personally, I don't have the aptitude to hone my driving skills to a competitive level, although I certainly appreciate the free gameplay.
The game contains 90 solo training tracks ranging from the very simple to the nearly gimmicky. Some of the expert tracks require you to use jumps and other props in very nonstandard ways. The earlier levels train you in on how to use props in a certain way and then they pull the rug out from under you. If you get tired of the existing tracks the game includes an editor; all of the included tracks were made with it. Want to string three crazy loops together with a bunch of boosts? Go for it.
Trackmania Nations is more about optimizing for time than it is exploring crazy physics courses. Some aspects of the game are frustrating and require a lot of trial and error. For instance, it's difficult to judge how fast you should be going on certain jumps without having failed at least once or twice by over- and under-shooting. Analog controls like a PS2-style joystick or driving wheel will certainly give you an edge over the keyboard controls. It's much easier to modulate your speed on a smooth basis when it comes to the later, more difficult levels.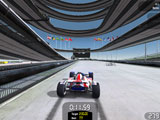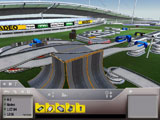 (Trackmania Nations Game Screenshots)
The game is available free as a rather large download (265 MB). Be warned, though, it does require you accept Starforce protection in order to play it. I suppose that's there to protect the game from hacking on account of the whole competing-for-real-money thing, but if you've had trouble with Starforce in the past you may want to take a pass on this one.
Trackmania Nations is a very neat slant on the driving genre. Why race in a flat circle when you can zip through imagination courses at several hundred miles per hour? It's a fun way to kill a few hours, and you can't beat its value at the low, low price of absolutely free!
Download Trackmania Nations here (265 MB).
Related Posts:
23 Responses to 'Insane Stunt Car Antics: Trackmania Nations'



[…] I played a lot with Hot Wheels cars growing up, making crazy tracks to whip around on. Fun-Motion have a great story about Trackmania Nations, a simulation of that same kind of insane driving. Read about it here, where there's a video of this free-download game to watch. […]




It's good game




This game is ace . You can race others online on the original tracks which are challenging or go against people on tracks people have created. Created tracks have huuuuge jumps and some amazing loops. I reccomend this game to everyone. However, dont download the setup as it takes 4 hours (Wish I knew before).




what website do you use to acces this game? for free?




Joan:

Click the download link at the bottom of the post or visit http://www.trackmanianations.com




Sorry about commenting on such an old post, but with the exception of Oblivion, this is probably the one game from 2006 that I've played the most so far. I think I'm past the worst addiction now, but just watching that video made me want to play it again.

This really is a great game, and everyone should download it as soon as possible. I see Nadeo (or their publisher, Focus) are going to be showing something called TrackMania Planet at E3, can't wait to find out what that is all about. Too bad I'm not going this year.




I want to play this game, but I'm a little weary because of that StarForce article. Is it really that dangerous?




In reply to zM (I know the post is old but I hope it will help):

I have read that StarForce drivers have been confirmed as causing reduced optical drive performance (due to Windows stepping down the IDE speed, as the boingboing article describes) although the theory that it actually damages optical drives is probably urban myth IMO (not that I can say authoritatively, of course). The thing to realise is that there are a lot of different versions of StarForce and some work in different ways and may or may not be problematic – it's a bit of a lucky dip and you take your chances by installing the software, but most people I should think do not encounter any real problem with it. The good news is that the protection developers provide an uninstall tool (though not on their own website… hm) that will thoroughly clean the protection software off your PC if you ever require it:

http://www.onlinesecurity-on.com/protect.phtml?c=55

Having said what I have – that I think that most people will not encounter a problem – I will disclose that if I speak from personal experience then I am not a part of that group. About 2 months back I was finding that my PC's DVD-ROM drive seemed to have difficulty reading discs – it seemed to come about suddenly but it had probably been getting gradually slower over time, and it continued to get worse to the point that it was unusable. Additionally I was also encountering spontaneous crashes and reboots that sometimes happened when I tried to access my drive, or even just loaded a disc into it. In the course of troubleshooting I tried uninstalling and reinstalling the DVD-ROM drivers in Windows a few times, but it didn't seem to help on its own and I next thought of StarForce. I had two games (V8 Supercars 2 and Sudeki) installed that used the protection software so I uninstalled them and ran the sfdrvrem.exe tool; after uninstalling and reinstalling my DVD-ROM drivers a few times more, the disc drive was working properly once again and the system had recovered its stability.

On the evidence of that experience the StarForce drivers look pretty suspect to me, however the fact that tools are provided and were successful in undoing the damage helps redeem it somewhat. Draw what conslusions you will.




Honestly, I would try to avoid StarForce.

I had the drivers installed when I was reviewing the European version of FlatOut 2. Everything seemed fine, but a few weeks later I started getting really bizarre behavior. Randon programs would lock up at 100% cpu usage. When I killed the process manually, the *next* program that got focus would also hit 100% cpu. Essentially I would be forced into rebooting.

I really scratched my head on that one, until I realized StarForce was on my system. I used their removal tools and my mysterious problems went away. Coincidence? Maybe. But I won't be installing StarForce anytime soon if I can help it…




Starforce is bad. Once I reread this page and saw the starforce notification, I cancelled my download. I once downloaded a game and when I ran the exe, it auto installed starforce without my permission. Not only that, starforce made my computer run like total crap. Starforce is getting to the point where people are downloading cracks for games they purchase so that they ccan avoid Starforce.




Is there a way to get this game without installing starforce?




TrackMania United is now available for purchase. Buy, download and play (or wait for the DVD version due February). TMU has all the 7 environments in one game plus extra blocks, features and a community centric theme. If someone hasn't yet tried TrackMania now would be a prime time to do it.

TMU uses the new StarForce Lite which means only the EXE is protected, no drivers are installed. The download version has a online key check and the DVD version has a perioidic DVD check.




can you get this for mac?




I havenot yet played it its gonna take about 20 mins to download but it look solid but i dont quite understand how its classified as a physics game???




The driving is very physics based, your car can get thrown off the track if you corner to fast and clip the wall and such.




Dear God, This game is incredible! The graphics and sounds are VERY good and the tracks ar INSANE! But what i just dont understand (NOT THAT IT'S A BAD THING!) is that these guys don't want a PENNY 4 this thing. On top of that, they're giving out money!?
I love these guys!




I just got TrackMania United, it's fudging AWESOME! The Stadium environment is much better in it, it has dirt, a lot of extra blocks, and pre-rendered shadow calculating…

Plus the other 6 environments! The old ones (desert, snow…) now have the night mood, lighting effects and some cool new blocks.

The only downside is the music. Only 1 song for each environment except Stadium which has a remix of the ones in TMN. These remix sucks. You can put in your own music though; that's a nice detail.




@Kurrus: Where can I get TrackMania United?




Ok, I installed TMN and now my CPU is running slow, how do I uninstall Starforce?




That is really cool! My favourite in TM:U is the desert levels, i love those cars!!




This an okay game…I bought the trackmania sunrise game to (dont know why the hell i did that.) Anyway i got bored within days but then i put it back on my computer…cuz i felt like it…




oh and "Burnout Paradise: The Ultimate Box" beats every game on this website…yes it is physicy




I didnt have to install starforce to use…
Leave a Reply