Sumotori Dreams is a small demoscene game created by Peter Sotesz for the Breakpoint 2007 96k game competition (it took first). The premise is simple: two self-balancing physics rigs face off in a sumo ring. The first rig to fall over loses. The implementation is simple but satisfying, and is well supported by solid physics, decent lighting, and good camera work. You can play against a computer opponent, but the real fun is playing Sumotori against a friend on the same keyboard.
Technically Astounding
It's worth mentioning that Sumotori is a technical masterpiece. Even ignoring its miniscule size, the physics engine stands alone as innovative. The destructible walls provide a great sense of impact. I spent a few minutes just destroying them in the game's hidden mode (shoot between the right-most slat to destroy the near corner wall on the title screen). If you let the ragdoll men stagger around a bit after a match they'll usually end up in the walls, too. It's great fun to watch them smash things in their desperate attempt to right themselves.
How Does it Play?
The control system in Sumotori is once removed. The physics ragdoll rigs are self-balancing, so they're in constant autonomous motion whenever they're off balance (which is 100% of the time as soon as you engage your opponent). Even moving around is a little spastic–it looks like your input doesn't control the rig directly, but rather nudges it off-balance. The actual locomotion is a product of the rig self-righting itself to compensate for the new imbalance.
As a result, it can be frustrating to play Sumotori. It's especially punishing if your play style is aggressive. It seems more productive to do small, controller movements, or sometimes not move at all. The victors in many of our battles were simply the rig that fell second, even before the rigs were touching. Matches are over quickly; very few engagements lasted more than a push or two before one of the characters would completely lose its footing.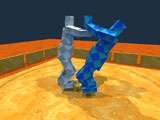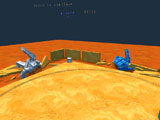 (Sumotori Dreams Game Screenshots)
Impressive Implementation
Sumotori is awfully impressive–self-balancing bipeds are a very difficult domain, even in the scope of "serious" research. Granted, a video game can tweak the rules of physics where a physical robot cannot, but it's still a great achievement. I'd love to see Peter keep tweaking the physics to massage the gameplay to a more advanced state, but even now Sumotori is a fun party game. Plus, it's only 87k and it's completely free. Give it a try!
Download Sumotori Dreams Game (87 KB)]
Virus Info: Many scanners may report this as a generic trojan. It is not a virus; it simply makes use of esoteric API calls to be remain so small.
More information on Sumotori can be found at Peter's official page.
Related Posts:
49 Responses to 'Drunken Ragdolls Fight for Our Amusement'



Haha, I geuss I'm the first to review. I had this game, but it lagged alot. I turned off shadows and it was better. but i closed it, turned it back on, and it started lagging again. So i thought, if I had to go through the procces of turning off shadows every time I play, I said "What the hell." And deleted it.

Fun game though.

Cool deformation.




I cant get this game to work… Everytime I click it nothing happens. And it';s weird because it seems like im the only one who has this problem. I have a good graphics card and 768 mbs of ram so i don't know why I cant run it. Anyone got any suggestions?




This is the best fighting physic game here ;)




Same with what Havenx said, I can't open the game either (double clicking and nothing happens)




Neato!

Fun, but not for long.




It may not be fun forever but the basic idea of this game really is excellent, which means it can be expanded into a varied game which is fun to play for a long time.




Whoever can't play this, check the following thread…
http://www.fun-motion.com/forums/showthread.php?t=219
Maybe there's an answer there, maybe not :P




I'm not completey dumb, I try to put the _ after the target name, to turn off the shadows. But it still won't work on my computer.




Sometimes after I fight they can spend up to an hour tying to get up. Lol.

I love this game.




For everyone who can't play this game: The normal version doesn't even work for me (I have a gaming PC), but the party-version worked fine! Try to download it!




Great game. Indeed it doesn't stay fun for long but what can you expect for such a small game? I think it's an amazing game for only 80-90k.




Kids, don't ever get drunk, or THIS will happen! xD
Those characters got the balance of a overgrown baby or drunk men, thats for sure. And its very amusing, for a short period of time.
With this idea you can make many other fun games, like obstacle courses on blocky downhills, "who can cause most damage?" (I know there already is a game for that, but now you control the character), and many others. ;D




wow, the breakable walls are really really awesome, are there any physics api's that have that, or did this guy code his physics engine by himself??




great game! thanks for the secret level, that is where I had the most fun!




Wow! Impressive little game! :)




my anti-virus software says its a virus…. not taking any chances




I am the Pusher Robot. I push around the blind people.

That is incorrect. I am the Shover Robot. I will protect you from the Terrible Secret of Space.

He is malfunctioning. I will protect you. Do you have stairs in your house?




My computer can run with all settings maxed out. It looks pretty impressive for an 87k game. I'm going to have to try the bonus mode now…




i cant find the secret level :(




for those who cant run it or it shuts down randomly. the sound is buggy turn it off when you start it and it should work fine. and when fun motion says the right most slot he means the one between the right most bar and the 2nd to right most bar. and hit the one behind the first panel




Hint. South East Corner assuming you're looking North.




****SPOILER****

The secret level is on the main menu…between the last two posts…hit the block farther away with a block…secret bombardment level made this game for me…lol




The last time I had that much fun hitting ragdolls around was in toribash… damn toribash was epic O_O… well … it still is …
Anyway, this game's a freakin' revelation!




it worked for me…
its pretty amazing




http://www.youtube.com/watch?v=x5VBEq1VHrc
You can see where you have to shoot the block to open the bonus mode right in the beginning…
And that's my video, i'm Muntuzzz ;D




NOD antivirus goes crazy when trying to run this game, its uses 100% cpu for a while, then goes back to normal. It doesnt find a virus, but if you try to play the game while it checks, you'll get a lot of "lag".. so check your taskmanager and wait it out..




most of the fun in this game is whatching them get up.

also when you play the hidden thing. shoot them within the first three seconds. tats before the balancing code loads and it should ragdoll him. satisfying.




Its ok, my friend really likes it though so that makes it a lot funner. Not better than Toribash though.




for those of you who are giving suggestions for us people who cant get the games to work. Not even the beginning setup box comes up to turn the sound off (or change the resolution or the shadows). I'm just saying its not hat we haven't tried turning the sound off, it's that we can't.




I still can't run this game. I've tried turning the sound off, setting it to no shadow, placing a _ at the end of the line and nothing. The party version doesn't work either. What do I have to do to play?




I've tried everything too, Behemoth, and I can't get it to run. Has anyone who originally couldn't run it had any luck?

I get the feeling people offering advice are those who could run it OK in the first place. All these positive comments about the game are making me mad with jealousy :(




I tried the _ and turning off sound (main volume on comp) as well. I dont' even get to see the program menu or wahtever. NOTHING happens at all.

The process would run at 50% CPU for a few seconds, and then it'd shut itself off. I don't even get to see its face.




i cant get this to run ? i've tried the no sounds _ but nothin is there some place else it can be downloaded or does it only work on certain windows ???




well computers have there limits. and considering that once you buy a computer theres already a new one. you may just be screwed. :(




Great game. Fun for a while. It's always cool to chuck stuff and people. I would like to see some additional stuff though. Perhaps a skin chooser, and definitely a "Replay" button, so you can re-watch and even save the cool ones.




sooooo slow……




Oh man, I just woke my girlfriend up as I failed to adequately muffle my laughter. This thing is hilarious! I'm applauding as I type!




For those who can't get it to work. Download msvcr71.dll (just google it). Then put it in the same directory as the party version of Sumotori. This should get it to work. I had the same trouble as the others with it not starting up at all and this seemed to fix the problem.

Good luck.




Hilarios, i love it!

Is there a secret level?
Where do i get it?
please someone tell me because i want to laugh even more.




I'm still laughing

This thing is literally dangerous

I could watch it for hours

but a replay button would be good




This game is only fun for about a half hour, but it is freaking hilarious watching them struggle to stay upright and crash through the walls.




I think it's quite good (and lasting)! It's no fun by yourself, well, not for more than 5-10 min. But when you just play against a friend for 30 min, every other day or once a week, it lasts for a long time!

Also, no problems running, though FRAPS is making crackling sounds whenever I record things. Otherwise I'd submit a vid.

Btw, how'd you get to throw blocks at one of them in the video?




I click single lplayer the the game shuts :-(




ROTFLMAO!

Finally a game where things happen like they're supposed to:
In the secret game, try to force the sake-sumo over the edge…

Also, see if you and the wobbly wrestler between you can tear down the wall before the game stops.

Amazing game! :)




The physics are aw inspiring…breakable stuff, and it breaks in the right place!




This has got to be the funniest game I've ever played since… well…
yes I think it's the funniest game I have played.

I like the secret mode, bombarding him with blocks until he falls off and lands on the barriers, then watch him get up for a while then just knock him over again lol

Also what kjk said, I sometimes just go into the "hidden part" to break all the barriers =]




I don't know if anyone posted this before, but there's a secret mode. when in the menu, throw a square through the second-rightmost gap between the pillars. Pretty cool game. It's not worth keeping for over an hour though, there should be like throw the sumo mode, or you should move the feet with arrow keys and drag the fists to punch.




Huh, i think this game is a keylogger…

Its 87KB and does nothing on both games, wtf?

It also shut down my virus scanner (RegRun)




For those of you experiencing LAG: Turn off the shadows and the music/sound.
For those of you looking for the SECRET GAME: "Shoot between the right-most slat to destroy the near corner wall on the title screen" (from the review). (you can then free shoot the drunken ragdoll)
For those of you who double click but it DOESN'T OPEN: Try downloading it from the official website. For some reason, that worked for me.
For those of you who THINK THIS IS A VIRUS: It's not. Now procede to growl at your virus scanner.
For those of you who CANNOT GET IT TO WORK FOR OTHER REASONS: "…Download msvcr71.dll (just google it). Then put it in the same directory as the party version of Sumotori."(JtM) OR, your computer is just plain old and just can't run it. That is probobly the reason for everything else…

Great game, lags a lot even with shadows + music turned off. S' okay. Played it on my moms superfast new laptop, and it was pretty neat. I think what this really needs is the abliity to grab your oponenent and turn left + right. Replay option.
Leave a Reply