Pogo Sticker by Jetro Lauha is a simple freeware physics game inspired by, quite obviously, pogo sticking. Jetro is most known for his Dismount games, although he has long been involved in the demo scene and currently works for Sulake Corporation (developers of the famed Habbo Hotel).
In Pogo Sticker, you control a rather abstract-looking pogo man. Clicking the mouse increases your jump height, and moving the mouse to the left or right of your little dude will steer him in that direction on his next jump. Your power meter slowly reduces over time. You need to be sure to keep increasing it, although be careful: Hitting your head too many times will fail the level, as will coming to a complete standstill.
The 12 levels in Pogo Sticker are fairly varied and rise quickly in difficulty. The game starts off as simple enough, but soon ends in frustrating disaster. The only means you have as a player to learn how high to jump in certain areas is to fail, again and again. This pain is exacerbated by the quantized power meter; one mouse click equals one defined increase in jump height. I think the game would be much better served by some kind of analog power definition, where you could more finely control your jump power. Oftentimes I feel like I know my jump meter won't have enough power for what I want to do, but I dread giving it another click on account on the braining that's sure to follow.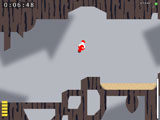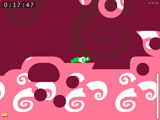 (Pogo Stickers Game Screenshots)
All in all, though, Pogo Sticker is a fun enough game and an interesting implementation of a real-world physics game. Pogo Sticker tracks your fastest time on each level and rewards you with various medals. Personally, I find the game a little too hard to control to warrant that kind of replay, but perhaps others will disagree. Either way, it's a well-produced game and a good way to kill a few minutes during a work break. And hey–the game's free.
Download Pogo Sticker game here (1.11 MB) or head on over to Jetro's website for MacOS and Linux versions.
Related Posts:
4 Responses to 'Pogoriffic Pogo Ponies: Pogo Sticker'



i agree the control scheme seems to make things more difficult than they have to be… but otherwise the game has a cool premise and I like the graphical style.




Its really hard, and annoying. Not as much fun as the other physics games.




The game's too buggy. I keep getting stuck on ledges.




i think this is a nice game… despite its bugs and such mensioned by josh…….
Leave a Reply