Dillon Cower's String Theory was created for the second Experimental Gameplay Project competition. It's a computer game intended to be played with a DDR-style dance pad, although it has keyboard controls as well. It's fairly short, but has an excellent, innovative implementation of a swinging-style play mechanic that's fun to play around with.
Swinging About
The controls in String Theory are pretty simple. Your little alien dude has four tentacles, and you can fire them in any of the 8 cardinal/ordinal directions. The tentacles latch on to the environment, but lose their grip after a few seconds. At first I wasn't firing more than one string in any given direction. This is a mistake–when the game speeds up you really need to fire multiple times in the same direction to move around quickly.
I don't have a DDR pad lying around at the moment, so unfortunately I wasn't able to try the game as it was intended. I imagine it would be rather frantic!
Camera Path
The camera in String Theory follows a pre-defined path at a pre-defined speed. You lose if your character moves outside of the screen. Although this makes the game a little hard to learn, at first, it also provides an excellent structure to what would otherwise be a simple physics test. It's a really simple–if punishing–way to structure the game.
I would love to see this physics mechanic set free of the camera limitations, though. It would be interesting to navigate the character around a free-moving world with some enemies, moving platforms, and other elements to spice things up. There's definitely some potential here for a larger computer game with more features.
Dulfyns R Savvd
The single level in String Theory isn't very long (I think 110 seconds or so unless you modify the camera speed settings). Still, it'll take you a few tries to make it all the way to the end. You'll spend more time playing than downloading, which is always a good ratio. The game forces you to restart from the beginning when you lose, which can get a little tedious, but it also gives you a chance to experiment a bit and hone your skills.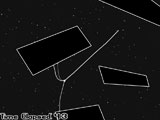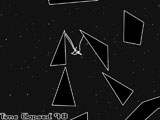 (String Theory Computer Game Screenshots)
Freeware Rules
String Theory has been released as freeware. It's a great game on its own right, and its short play time–under a minute–makes it the perfect distraction from work. Just click on your shortcut, play for 30 seconds, and then get back to doing whatever it was you were supposed to be doing. It'll be our little secret.
Download String Theory Computer Game (3.31 MB) [mirror]
Make sure you head on over to the Experimental Gameplay Project for more information on the competition and to check out the other entries.
Related Posts:
5 Responses to 'Swinging Retro Alien Computer Game'



Sounds like fun, I'll try it! And it also looks kind of hard… read-me?




Cool, and worth the download for the music alone. :-)




If they just gave this a randomly generated playing field with random camera movement, and goals of surviving each stage for an increasing amount of time, you'd have a greatly replayable experience here. This is good fun.




You should try also this… it has a similar gameplay.




i like how simple the controls are. this is fun, cool.. however–

ARRRRGH >.O this game makes my head hurt.

I keep getting stuck in the same spot that the guy that made the above video gets stuck. argh.

There should be a free-moving version so you can just mess around, and/or what creath said.
and maybe an option to have more or less tenticals just to see what you can do with that.

good music too lol
Leave a Reply