Rocky the Monkey is a new physics game by Rag Doll Software, purveyors of fine physics games. The formula is simple: ragdoll + grappling hook + monkey = fun. The official description of the title is far too excellent to pass up, so here it is:
Rocky the Monkey is a deep strategy game set up in a post-apocalyptic world. Ice caps are melting and water levels are rising at an impressive speed. As a monkey willing to survive, you will have to climb up a series of misteriously floating rocks. Luckily, having been bitten by a radioactive spider, you have gained the ability to shoot webs at will. However, power comes at a price, and you will have to eat bananas constantly to survive. Will you be able to defeat all evil and save the universe?
Control Troubles
The controls in Rocky the Monkey are surprisingly hard to learn considering their simplicity. Standard WASD keys move your simian counterpart, and clicking the mouse will connect or disconnect your grappling hook. Something about the setup isn't working too well, although once you get past the learning curve it's smooth banana-sailing from there.
Personally I think the problem lies with the mouse click system. Rather than click and hold to connect an object, you click once to connect and a second time to disconnect. The first few times I played the game I was trying to click and hold and had to consciously remind myself to do otherwise. This usually resulted in disaster.
Never-Ending
There is no level structure in Rocky the Monkey. The world is randomly generated, and the game will simply continue indefinitely as you progress upward. Psychologically I find this has a very negative effect on my play experience. I don't have a lot of motivation to continue when there aren't any achievable goals. Something as simple as a break every 100 feet would be enough. As is the game is kind of maddening.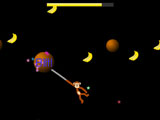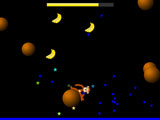 (Rocky the Monkey Game Screenshots)
It's Free!
It's hard to complain when the game is free, though, and Matteo decided to release Rocky the Monkey free of charge. Check it out, and if anyone has thoughts on how the controls could be improved feel free to post your opinion. It's an interesting example of something that should be working well but somehow just isn't.
Rocky the Monkey Game Info
(The game is now free for customers of Rag Doll Soft games–check site for more info).
Related Posts:
13 Responses to 'Monkey Ragdoll + Grappling Hook + Bananas = ?'



I don't really like this game. I don't know why, maybe because it's too simple?




THE WORLD NEEDS MORE GRAPPLING HOOKS.

My life will be complete when I can use multiple indepent retractable grappling hooks in an FPS.




Hmmmmmmmmmmmmmmmmmmmm.

It's wierd because i've bought 'N-ball' & 'Ragdoll masters' both from ragdoll soft, and i love them, money well spent. :)

…But this, i don't know…




The design is nice. But the level is bad imo. Would be ice to have some jungle levels or even a city, and with time trial too…

Would like to know what is the song in this game?!?




Verners, you are on the ball.

A city level would be soooooooooooo much fun…can't think how it would work though…




Neato. I can't believe I didn't pay attention to this while it was on IG.




The song in this video is the one from the game. Usually I use a game's soundtrack if it has one.




This game could be incredibly fun if not for the fact that when the rope gets too short it suddenly loses all power, I find that because of this I can't seem to get any hieght no matter what I do. As a result the game ends up becoming too frustrating to continue. On the topic of the level, I think it works; it's as simple as it needs to be, the level suits the goals (Now if there was a different goal, you would need a different level design).

I'd also like to agree that the world needs more games with physically reactive grappling hooks. :P




definately a bit frustrating at times, but I ended up playing for quite a while last night and tonight. My record is 154 feet on Medium difficulty.




I found it extremely hard, though I think that was just the awkwardness of the controls. Great concept though!




I like that game. I think it's funny :-) My record is 476 on EASY




wow it completly sux they withdrew the game and made it avalible to ONLY people that have bought somethin from um




or you could download the mirror josh
Leave a Reply