Konstantin Koshutin's amazing Hammerfight game–previously known as Hammerfall, is now available to purchase on Steam for $9.99. Go get it, physics game fans!
Blurst, the game portal that I help run over at Flashbang Studios, just released downloadable versions of four of our games: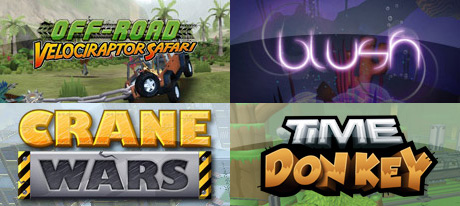 There's some physics-based game goodness in the mix here, so check them out! There's a 4-game bundle available if you want to purchase them all for one sweet price. Use coupon code FUNMOTION for 30% off, too! Head on over to the Blurst store to spend your hard-earned dollars.
Tired of waiting for front-page reviews to see what new physics games are available? You should follow Fun-Motion on Twitter or become a Fan on Facebook! I'll keep these updated with URLs to the latest physics games (even if I won't be doing a full video review).


I'll occasionally run contests to reward Twitter followers and Facebook fans, too, so make sure you join! We have some sweet Raptor Safari shirts at work that are dying for a new home…
The Fun-Motion forum is another great place to go for up-to-the-minute physics games information. There are a lot of great threads with obscure games, tech demos, and even videos from research papers.
P.S. Blurst also has a presence on both platforms: twitter.com/blurst and facebook.com/blurst
Next Page »