Walaber's Trampoline is the best damn trampoline simulator I've played. Of course, it's also the only trampoline simulator I've played, but don't let that diminish my opinion. It really is a very well-made game, and there's a lot of jumping-up-and-down fun to be had if you can get past the game's occasionally brutal learning curve.
Trampoline Simulation
The first thing to point out about Walaber's Trampoline is that the title is very much a simulation. It isn't a trampoline-inspired physics game, but rather a trampoline simulator. It's obvious that Walaber–Tim FitzRandolph–is really into the sport. I would be honestly surprised if he wasn't. The game contains a depth of knowledge of trampoline gymnastics that demonstrates more than passing interest. I now know what a Barani, Half-In Half-Out, and a Rudy are (although I can only do them on a keyboard, so far…)
It's All about Timing
The core skill in Trampoline is basically the same one found in other character physics games, such as Ski Stunt Simulator: Timing. Getting the feel for when to open up a rotation is everything. It's a frustrating skill to learn, too. The various positions–tuck, pike, and straight–all have different rotation speeds, and transitioning between them will change your speed too. Complicate this with the fact that twisting also modifies your rotation speed, and you can see how things get hairy.
This leads me to only serious complaint I have about the game. It's really hard to control your rotation. I really wish the game had mouse control of some kind. There isn't any way to gradate your speed. You choose either to tuck or not (contrast this to a game like Ski Stunt, where you can slowly open up your flip to finely tune your landing). It is possible to set the initial rotation for a jump in some analog sense, in Trampoline, but by modifying the timing of when you start to hold left or right. Some sort of analog control that isn't based on time would have been marvelous.
Game Structure
Walaber's Trampoline has all of the trappings of a complete computer game experience. The bulk of your play time is spent in the "story" mode, where you must complete certain tricks/combos to move forward. The game starts out very gently–and there's always the "show me" button to have the trick demonstrated–but it soon becomes rather difficult. Personally I enjoyed the competitions and the single trick levels much more than the combo levels. Perfectly landing a 4-trick combo is a lot harder than you might think. Expect to be pressing reset once every 10 seconds or so for a good 20 minutes on some of the stages.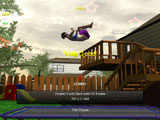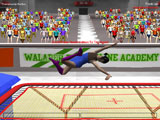 (Walaber's Trampoline Computer Game Screenshots)
It's Freeware!
Amazingingly, Walaber's Trampoline is freeware. Tim could definitely slap a price tag of $19.95 on it and get some sales. It's on par, production-wise, with a lot of indie efforts, and he certainly has cornered a niche.
Download Walaber's Trampoline (73 MB) [mirrors]
Make sure you visit Walaber's page for other fine physics games. He has quite the portfolio building up.
P.S. An Amazing Video
Also, I coincidently bumped into this video today. What's scary is I can actually identify a few of these tricks after my weekend playing nothing but Walaber's Trampoline. The video gets into hand balancing later, but the trampoline action at the start is mind-blowing:
Related Posts:
30 Responses to 'The World's Finest Trampoline Simulator'



People usually email about songs used in the video. So for the record, this is:

The Flashbulb – Chik Habit (from their Flexing Habitual album)

Also, this is the 49th review! 50th review should be posted later this week…I'll try to make it a good one!




Can you tell me what the song is playing on the simulation video? It's very catchy… thanks.




Russell: see above ;).




Awesome, I must try this game soon.

(PS: Good luck with the 50th review!)




and for more similar music look at any of the like 20 Squarepusher albums ;)

Neat second video, its a good thing i didn't see that when i was younger.. i'd be so in a wheelchair :\




yeah this game is awesome, it inspired me to go outside and try getting good on my trambopoline, but mines is just too small! i need a bigger one, so i dont fasll off so much! : p




Looks good I might try it out soon.




Wow. This is really neat, although it's quite brutal in its learning curve. I just finished part 11 of the story mode, and get to the first competition. The last bit of chapter 11 was evil though "The next part is easy, just do a five jump combo, each with at least one flip" (or words to that effect, it really said "easy"). I just got past doing a three jump combo, and suddenly I have to do five in a row!?

Still, very enjoyable. But good combos are *hard*.




I playe this a while ago, fun!




looks cool! As usual, great review Matthew, your site rocks!




Sweet! I read about the game before but I never knew it was free. I'll definately give this a shot.




Man, this is a hard game. I've had more luck making the guy fall off the trampoline than actually doing any tricks.

Anyway, this site is great. Good job on it. I'm totally in love with game physics.




This game looks awesome! although my computer is having serious errors when I load it up. After I click OK on the level select screen, the screen turns yellow and freezes, forcing me to restart my computer. Note: I pressed alt+tab and got back into the window. It showed a mans legs sticking out of black (middle of the screen) and nothing else. Can someone please help me with this problem, or know what is going on?




erm, just completed level 11. cant start next level and i cant do the "competition"???




Great game, i have nearly finished the story mode. Only one thing is unclear to me: is it possible to jump on a trampoline with a friend simultanely? God, that would be such a good idea, for a mod example..




Change your config and character files right and you can do tons of flips!




Wow, this game is awesome. It takes some getting used to but once you do it's tons of fun.




Note that if you land anywhere but the trampoline, the game explodes. It did on mine, anyway.

I was hoping to land that trick. :/




Thank you SOOOO much for this site Matt! Ive been having this craving for ragdoll and other cool physics ever since i first found out about them! id google it every time i got on da cpu. but any-how… awesome site and keep postin them games up 4 us boy!




Great game, I wish there was more though. Little replay value after completing it.




Finally a site dedicated to physics games, keep up the good work. On this game though, it's incredibly buggy, my guy kept flipping between jumping and being prone from a previous failure and hovering above the trampoline. And it has an incredibly steep learning curve.




I just completed the game the other day, the gorilla character is very hard to use!




The video is adam menzies, came second in the worlds i train with him at gymnastcis until he went to cirque. The game is also awesome
Awesome site. Awesome Reviews.




hi

umm.. i cant start any of the games because i cant click on anything.
(this means i cant pick a character) please give me some advise!or…. what do i click on to pick a character??




hi, I have always looked for a good trampoline simulator, so I was very happy when I found this one. The problem is that when I press play, in free play or story mode, the screen freezes and stays yellow, then it turns black and the game closes. I wondered if my computer had something missing so I downloaded directx 9.0 C, Ogre graphics and newton physics engine, but it still doesn't work, please tell me what can I do??




What is the song in the adam menzies video?




Blue:

Bajofondo Tango Club – Montserrat




now if that video isnt f…… awesome i dont know what is,…=)
at first i wasnt sure if it wasnt a scene from the game;) which is aswell pretty "consuming" to say the least




This game is great, took me about 15 minutes to figure it out, its a great idea for a game. I didn't know there was a real sport of trampolining. Crazy, i guess theres a sport of everything these days. Your site is awesome mathew i download a new game every night (dialup) . And I had the full version of Gish a while back before I saw you reviewed it on here. I LOVED that game. It is one of the best games ever played.




I would like to see tumbling version of this game cause this game rocks !! and if someone know online server in this game let me know (here not e-mail)
Leave a Reply