The original RedLynx Trials game was one of the games that spurred me to create Fun-Motion. Here was a game completely based on physics, with its own learning curve and style of play. It was relatively obscure, though, as were many other physics games back then, so I decided to start a site dedicated to these unknown gems.
RedLynx is still at it, and launched Trials 2 Second Edition on Steam in late May. They've come a long way since that first Java-based trials game. The core play remains the same–the physics-based fun and frustration both–but the presentation has been given a humongous face lift, and new features abound. This is one beautiful game!
For New Players
Trials 2 SE does a good job of bringing new Trials players up to speed. The previous games relied on the player to learn how to manipulate the bike's spring rig to jump forward, jump upwards, and generally clear obstacles. This time around, RedLynx has included tutorial levels that explicitly state how to accomplish these maneuvers.
Controls remain the same, simple scheme: Up and down control throttle, and left and right change rider stance and apply rotation to the rig. The sophistication comes from the physics simulation itself. This is a game where tapping acceleration 50ms later may mean the difference between clearing the hill climb or completely failing it.
New Physics Possibilities
The collision engine in the previous RedLynx games relied on one unbroken ground object for collision. This mean you couldn't both go over and under something, just over it. Trials 2 SE removes any of those restrictions. They use this new flexibility in a sensible, fun way. There are pipes you have to go through in a crouched stance, which limit your options beforehand, and some great loop-like structures.
Physics interaction is 2D, despite the 3D appearance. There are actually a handful of levels where physics objects in the level are dynamic. I would love to see more levels like this, because it makes the game easier and more forgiving. The static levels have very definite solutions, where an optimal runs will look very similar. On the levels with free-moving obstacles, though, things are more fuzzy, which I like. These levels do have a strange disconnect in that physical objects, like a crate or barrel, can actually move in 3D, while your rider is still fixed in a 2D plane.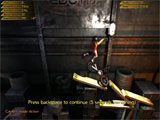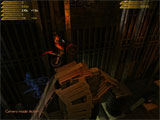 (Trials 2: Second Edition Game Screenshots)
Frustration Generator
As in the previous games, Trials 2 Second Edition provides a lot of frustration. It takes a certain player to bash their head against a seemingly impossible incline again, and again, and again. RedLynx is very good at level design at this late point in the series. They understand perfectly how to craft a particular combination of slopes, obstacles, and jumps into a death trap. I often find myself cursing that if some tire were just a tiny bit farther from a jump, this would be an easy line. It's designed that way, of course, which is actually what motivates me. If I felt like the levels were hard because of random placement, I would give up. It's a dangerous game to pit yourself against designers like this, though, and particularly against designers as savvy as the ones who built these levels.
On the plus side, the high scores for each level also have a recording available. If you're stuck on a level, or simply baffled as to how someone beat it in literally half your time, you can watch their replay or download it as a ghost to race head-to-head. The replays even show keyboard input highlighted, to give you clues on a player's technique.
Definitely Worth the $10
Trials 2 SE is a great upgrade for the series. The difficulty progression is smooth, there are new levels with goals like timed wheelies, flip counts, and the enhanced graphics will help lower the barrier to entry for average gamers. Trials tracks robust online integration, too, with individual and team rankings, Steam achievements, and the ability to download new levels in-game (here is my profile, for the curious).
Download Trials 2 SE Demo (123 MB) [or Steam demo link]
The full version costs $9.99 USD, and is available directly from RedLynx or through Steam.
---
Related Posts:
12 Responses to 'Trials 2SE Visual Upgrade, Same Great Physics'



Up…..Up….. UPDATEEE!!!!! *play mgs2 theme here* Finally, thank you matt for this update, even though im sure we have all heard of trials 2 thank you for atleast putting something up here :D im sure we all appreciate this!




Yay, a new post!

I found a typo, though.

I decided to start a site dedicated to this unknown gems.

This should be these. All in all another great review, though.




An update :D!
Sounds cool, but I don't think I'm going to buy this game. Most likely because I'm not that big of a fan of Trial :o
Still, good to see an update!




UPDAAAAAAAAAAAAAAAAAAAAAAAAAAAAAAAAAAAAAAAAAAAAAAAAAAAAAAAAAAAAAAAAAAAAAAAAAAAAAAAAAAAAAAAAAATE!!

I got the demo on steam a few weeks ago. Really fun. My brother likes it more than me. I would probably buy the whole game if I could run it on hight with no lag. But I can't




One of my favourite games!
Glad you reviewed it, it totally deserves it…

A major update (v1.08) is also almost ready, i really can't wait for it.

The best 7 euros i spent ever, took it when Trials2 came out (which was updated for free to the SE edition, when it came out).
My respect to RedLynx for that. :)




weeeeee update!




new tracks. .more languages .. more VO's…




Thanks for the updates!

Oh, and as it comes to Trials 2 SE… SOLD!
"Definitely worth the $10".




Yay! I believe i suggested this game awhile back after i bought it upon release.




UPDATE! *faints*




The best value you can get for your hard earned buck. This game is crafted with love and it shows :P




Update released. For full list of new features and tracks, please visit:
Leave a Reply