Well, seven digital children died. At it wasn't so much a "tragic roller coaster accident" as it was a "highly entertaining physics-based roller coaster game". Close enough.
Fantasy Roller Coaster is a simple physics game by the master of physics games, Red Lynx Ltd. Red Lynx is all over the place. They call themselves a "a developer and Producer of Interactive Cross-Media Entertainment". It looks like they do a lot of work-for-hire contract work, but they also have an internal team that cranks out their own games every so often. Primarily they produce the insanely hard Trials series, so Fantasy Roller Coaster is a step in a new direction for them.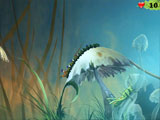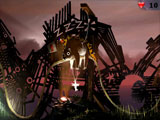 (Fantasy Roller Coaster Game Screenshots)
The premise of Fantasy Roller Coaster is simple. You're the brakeman on a rather psychedelic roller coaster with two options: speed up or slow down. Your coaster is full of tykes along for the ride of their young lives. When you jar their little noggins around they squeal in glee and score heart points. Too fast, though, and you'll crash. Too slow and you won't score as many points.
That's it. The game rewards you by adding or removing cars between stages. If you score well on one of the four levels you'll add a new car to your coaster. Score especially well and you get two additional cars. Crash early and score poorly and you'll have one taken away. The result is a feedback cycle–you need to do well on early stages to get more cars to do score more to get more cars, etc…
It is possible to optimize. My early games didn't score nearly as much as my later games did. My current high score is 214. Think you can beat that? The full version of the game is $14.95 and available at such websites as Miniclip or Arcade Town. The art alone is worth your money–the game's backgrounds are amazing. There are also several different levels available as free Java versions on different websites.
Fantasy Roller Coaster is a well-executed implementation of a simple but addictive physics game idea. The game weighs in a little light on content at only four stages, though. It's hard to justify spending $15 on a game that will take five minutes to play through. Still, it's a great way to kill five minutes at a time, twenty times a day…
Play Fantasy Roller Coaster online (Java) or buy the game at Miniclip or Arcade Town.
Related Posts:
4 Responses to '7 Children Die in Tragic Roller Coaster Accident'



[…] I like games or experiments around games where a simple idea or two is tried out. I found out about Fantasy Rollercoaster from a new blog, Fun-Motion. They give a nice review of the game here. I'm looking forward to discovering more games with unique physics properties from that site. […]




how do you play the games on this website? It's stupid if all you get to do is watch a video!!!




@ Veronica
After the review there's always a link to the game's website or directly to the download. In this page, it's in the line above "Related Posts". =)




WTF on miniclip it says "could not run java runtime enviroment" and on the othere site "severeral java virtual machines running in the same proccess caused an error" and before you ask I HAVE got the newest version of java
Leave a Reply