At the time of this writing, I have dodged 3,783 anvils (and not-so-successfully dodged 138 more). You see, that's the exactly the kind of game Rabidlab has made with Dodge That Anvil. A game all about dodging anvils, for one, but also a game so meticulously polished and complete that of course it includes such statistics. So why have I dodged so goddamn many anvils? It's kind of fun, actually, but also strangely addicting. I just couldn't stop myself.
Mildly (Physics) Spiced
Although the Havok physics in Director power collisions and most of the motions in Dodge That Anvil, the game isn't necessarily physics-based. As Jake Grandchamp–the one-man team behind the game–put it, the game is more "physics-enhanced". The game does have its moments where the physics play out in unexpected ways. If you aren't careful, explosions can rocket anvil corpses right back into the air and right into your rabbit face.
One of the common shortcomings of physics games is when the potential for using physics objects in interesting ways remains untapped. That's certainly true of Dodge That Anvil–the world seems to be deliberately simple, almost blocky in design. It works really well as an art style, but I would've loved to see how things like slopes, more loose physics objects, and additional constraint-driven contraptions would've played out. Much of the appeal in playing Dodge That Anvil is that things are just complex enough to require your attention, though, so maybe additional complexity in the physics system would ruin that.
Flow Pacing
Something that fascinates me about Dodge That Anvil is its pacing. Hellacious anvils, and other more mundane objects, are constantly raining down on you. And I mean constantly–the longest delay between salvos is 5 seconds. The game actually started out as a physics test to stress the number of objects that could be spawned (a controllable character was used to control where the new objects would spawn).
The result is that something bad is always just about to happen to you. The game is very clear about what, when, and where, though. The survival skill here is simply paying attention. It requires a surprising amount of discipline to play well, especially compared to today's modern games. You have no one to blame but yourself if you try to pick the largest carrot on a 2-second timer, which you know takes more than two seconds, but it seems to happen pretty frequently.
Dodge That Anvil becomes curiously addictive when you get into a good run. I think the game does a good job of putting the player into a "flow" state (in the Csikszentmihalyi sense of the word). There are a few barriers to that pleasant zoning out, though, principally of which is the game's controls. I played with each of the three options–mouse, keyboard, and gamepad–for a few levels. Playing with a 360 gamepad (or similar) is far and away the most enjoyable and intuitive.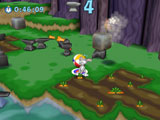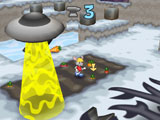 (Dodge That Anvil Game Screenshots)
Give It a Chance
I'll be totally honest here. I first started playing Dodge That Anvil solely to come up with a review. I pushed through the first 30 minutes or so purely to play enough to write about it. I ended up playing all the way through the game, though, because I just couldn't help myself. I crave those damn carrots now.
So give the game a shot. Find a gamepad and play until some of the more challenging and interesting anvils start to appear. Maybe it'll suck you in too.
Download Dodge That Anvil Game (10.9 MB)
The full version of Dodge That Anvil is available for $19.99 from the Rabidlab website. There's also a demo version that plays in your browser using the Shockwave plugin.
Related Posts:
16 Responses to 'Dodge Thousands of Anvils (And Like It!)'



Looks very interesting. Looks like my kind of game.

*Goes to try.

Anyway, what's up with all these shareware games? Aren't there anymore good freeware physics games?




Though this might be a fun game… u might want to open up a new section on ur web for "Cool games" without the emphasis on physics. This game clearly does not have any physics. If u want to find some other physics games u could try searching via http://dogpile.com

This site combines the results of various popular search engines.

I've done a lot of searching for physics related games myself using google. I found almost all games found on fun-motion + some extra's.. though they are not nearly worth mentioning… So good job, coz i know how hard it is to find em..

So try finding some with dogpile, i noticed that some physics games turned up in the results of msn search and others and not on google.. so with the right keywords u might find some more.

Keep up the good work, loving ur site & reviews!

A true fan.




Right. A game….where your a rabbit………..dodging anvils.

AND THEY WANT HOW MUCH MONEY?!?!?

(goes to drown himself in a small bath)




I really did play all the way through the game (and I paid for it). I was skeptical at first, too, but there is something very addictive about the gameplay after you get into it.




great game. im not willing to pay $20.00 yet but will say its kinda addicting game.anyhow lovin how many reviews ur doin keep up the good work




Well, i did play the demo, and i can see what you mean. But i'm still not paying for it.

anyway, on a lighter note, love the website, it's getting better all the time. :-)




Why pay for it? >.> Anyway, cool game!! Downloading now, and after that I'll get past the pay thing lol




Looks pretty fun, but I doubt it's fun enough to pay $20.00 for.




i think its pretty good. i think the physics are relevant enough to warrant a review, definately. good work




You should set up a running counter of the money you've spent on these games, Matt.
Plus, those forums you mentioned don't sound so bad either.




A lot of developers offer me free keys for games these days, although I always buy my own copy. I feel more free to produce a negative review if I bought the game myself.

The forums will probably be awhile–I'm really busy this next month (in Amsterdam for Casuality casual games conference next week, then speaking at the Game Developer's Conference soon after).




$20 for a full fledged game of anvil rabbit dodgeing?




A anvil-dodging rabbit game… 20 Dollars… I'm gonna kill myself o.o'




Did somebody find any new FREEWARE physicgames?

All free games I found don't have enough physics in it to be called PHYSICgames, for example I found lemming ball z and there are not enough physics…




Matthew, they give you free keys??
AND YOU REJECT THEM!?!?!
You could set up a tournament where the best game suggested to you wins a free key (everybody who suggested it gets one).




I hear by suggest it.
Leave a Reply