The great thing about physics games is how marvelously intuitive they are. Everyone is familiar with motion: how things bounce, glide, stack, fall, and so on. Physics is universal. In fact, I've even seen chickens predicatively track the trajectories of thrown rocks (I grew up with llamas, goats, and chickens about. No kidding).
Casual games are computer games aimed at a mainstream, popular market. They are games that literally anyone should be able to sit down and play. It follows that physics-based games would make great casual games. After all, the rules of motion are universal. In fact, there have been several physics-based games released for the casual market. I'll talk about some others later, but one such recent title is Caramba Deluxe by Zylom.
Caramba Deluxe is best described as billiards meets match-3. You knock balls around and clear the game board by colliding three or more like-colored balls in the same shot. As with any billiards game, angles are everything.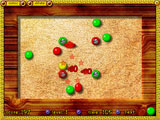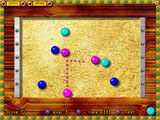 (Caramba Deluxe Game Screenshots)
Caramba Deluxe is impressive in that it's an extremely accessible implementation of a very elegant design. The aiming guideline is always present so there's never any question about where your ball will go. It's very easy to fire off a few balls and immediately grasp how the game works. Shot power is timed, though, which is where one element of player skill comes into play. The other skill aspect is the concept of lay, which is how the board will end up after you fire the shot. Later levels require you to think several moves ahead to pass the level with a good score.
The game has bonus trophies for passing each stage with a minimum score (combos improve your score), finishing the level under a certain time, and firing a minimum number of balls. Complexity is added by introducing new colors, "dead" colors that don't require matching, irregular level shapes, balls that require multiple matches to clear, and metal walls that limit where you can shoot balls from.
Despite the great attempts at variety the game's pacing does start to wear thin after awhile. This is a shame, because the core of the game is so solid. On the portals Caramba poked into the Top 10 at RealArcade for a single week before vanishing. I feel like if they had held onto development for just a little longer they could've ended up with a more robust and varied player experience. Perhaps Zylom overdid the simplicity of their design. I sincerely hope the game's moderate success doesn't deter other casual developers from embracing physics, though–physics such a great tool for game design.
It's always hard to second-guess a game's design. What would you have done differently?
Related Posts:
One Response to 'Physics in Casual Games, Caramba Deluxe'



Rad… lol
Leave a Reply