Pluto Strikes Back is a great solo project by Petri Purho, who has been rapidly prototyping games in the spirit of the Experimental Gameplay Project. This title was created in seven days, and the concept is awesome: Pluto, angry at being reclassified as a "dwarf planet", takes a bat to the rest of the Solar System to act out his jealous revenge.
Beauty in Simplicity
I'm impressed with the elegant minimalism of Pluto Strikes Back's design. It may seem, at first glance, that designing a simple game would be easier than producing a feature-laden one. In my experience, though, the opposite is true: It's really hard to create a tight, simple design. And once you have that core game built, it's pleasantly easy to start adding on top of it (Petri does mention on his blog that destructible planets and a few other features were planned but scrapped for time).
Feature-wise, Pluto Strike Back is in dire need of a high score table. The game is based on arcade scoring–you keep racking up points until you inevitably die. Sure, you could write down your scores and share them with friends, but the game should really be doing that for you. In-game high score lists would really give the game some legs.
Planetary Physics
Pluto Strikes Back utilizes a simple planetary gravity physics model. As the asteroids get closer to the planets, gravity's influence exponentially increases. It takes a few minutes to adjust to the sudden boost of speed the asteroids get as they approach the baseball bat-wielding Pluto. Asteroids will orbit around planets and swing back around if they're moving slow enough.
The one thing I would've liked to see in the gameplay is more dynamic objects. All of the planets are essentially anchored via springs to their starting locations. They behave a bit like really sluggish pinball bumpers, moving back to their initial position after taking a hit. It would be nice to have the ability to knock them lose, clearing the Solar System of planetary swine.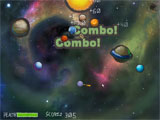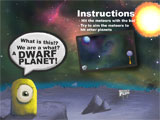 (Pluto Strikes Back Game Screenshots)
And, Hey, It's Free!
Pluto Strikes Back does a lot of things really well: an obvious scoring system, a clever concept, and solid production quality (especially considering it was a week-long solo project!). The game presents a short 5-minute distraction, rather than a deep world to explore, but it never claimed to be. It's free, too, so you really don't have an excuse not to sink five minutes into it. I recommend you do so now!
Download Pluto Strikes Back Game (4.36 MB)
Make sure you visit Petri's blog for his other, also excellent, experimental games.
Related Posts:
Petri Purho's Crayon Physics, like the previously-reviewed Pluto Strikes Back, was created as part of his ongoing Kloonigames experimental game project. Purho tries to put out a new game each month, allowing himself no more than seven days to create each. Crayon Physics was done in five. As a bare-bones prototype, it doesn't quite have the depth of a finished title. It compensates for a lack of polish with a layer of kindergarten charm and a loop of soothing licensed music. As a proof of concept, the game plays fine.
So what's the concept?
Drawing Physical Objects
Each of the game's drawing paper screens contains one or more bouncing yellow stars and a small ball of red crayon wax. The puzzle is solved when the ball has touched each of the stars. Obstacles and contraptions – walls, see-saws, bottomless pits – are sketched onto the path in bright, primary crayon colors. But the player can draw too.
Anything the player scrawls with the mouse on the drawing paper screen is instantly imbued with weight and volume. Draw a box in the sky and it plummets to the ground. Draw one over a see-saw, and it sends what's on the other end into the air. A well-placed block will flip the ball over the see-saw and to its destination. Solve physical problems by drawing objects into existence: that's the premise of Purho's prototype.
You Can Draw Anything You Want, as Long as it's Square
Unfortunately, Purho's five-day coding exercise just isn't as robust as my imagination. Though I'm given this big canvas to draw on, I'm only allowed to sketch squares. Anything I draw, no matter what it looks like, will have the properties of a rectangle when brought to life by the game. A drawing that's too far off the mark will simply be transformed into a perfect rectangle. It's often unclear exactly what the dimensions of a new object will be, especially when trying to draw something long and thin.
The game would be much more interesting if it allowed me to draw a round ball and a slope to roll it down, but curves are beyond the game's shape recognition. And while I can play with see-saws the game provides, sketching my own is out of the question. The ball just doesn't have enough vertical motion – it doesn't bounce – to do anything but bump the side of anything I draw. Interacting with the ball usually comes down to dropping a box on it and hoping it rolls in the right direction. It just seems like a sloppy and imprecise way of interacting with the world, especially considering my ability to draw right on the screen.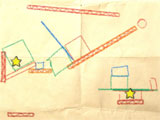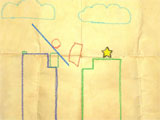 (Crayon Physics Game Screenshots)
Crayon Basics
Crayon Physics is a very limited game, despite a premise that calls to mind lots of possibilities. That's because it was built as a prototype. It's the most basic implementation of a drawing-based physics game, created to demonstrate how the concept might work. And what's there does work – it's playable from start to finish, if a little elementary. It's also free and won't take longer than fifteen minutes to play through. For anyone curious about what a game that combines physics with player-created shapes might look like, it's time worth investing.
Download Crayon Physics (5.63 MB)
Visit Petri's Kloonigames blog for more great experimental games.
---
Related Posts:
So far, we've reviewed the following physics games (81 games):
Related Posts: